CPH Airport – The Document Intervention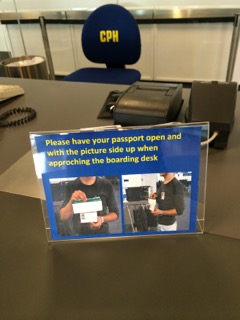 Introduction
As the diagnosis states, we found that not all passengers knew how to handle their documents and what documentation was required in order for handlers to board a given passenger. This would often result in passengers having to look through their bag, jacket or pockets to find their passport. Especially if passengers still had their passport or other required documentation stowed away in their bag it would become a real time issue. If this then were to happen several times during a single boarding phase, it could present a serious time constraint on the remainder of the boarding phase.
With this intervention we hoped to accomplish a couple of different behaviors. First and foremost was our target, or desired, behavior. To get passengers to show their passports correctly, as we have previously found this to be the easiest way for handlers to process passengers. By getting passengers to hold their passport and boarding pass in the correct way, we would also overcome the problem of passengers having their documents put away in their bags. Lastly, we included green cards and visas in the interventions. The reasoning behind this was that we would rather have people have their green cards or visas ready and then not needing to show them, than we wanted passengers to not have their green card/visa ready and then having to find it when asked to show it.
Method
For this intervention, we ran a chi-square contingency table test, to see whether the difference between correct and incorrect showing of passports was statistically significant depending on the condition. The test showed us that this was indeed the case: the difference was statistically significant. passengers who were subject to the intervention would show their passport correct 35% more of the time.
Results
The document-intervention was also proven to be a statistically significant predictor of time, as was the case with passport swipes and selectees (Document: B = 3.179 t (1440) = 6.56, p < .001). It takes approximately 3.2 seconds longer for a handler to process any passenger who does not show their passport and boarding pass in the correct manner.
Conclusion
The intervention was successful in getting passengers to show their documents in the right way, more often.